STRAIGHT STITCH
A simple "out and in" tacking stitch.
Out at 1, in at 2, out at 3, in at 4, etc.
BACK STITCH
One of the basics from schooldays!
Start at point 2, back in at point 1, out at point 3, in at point 2 again, out at point 4, in at point 3, etc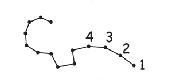 SPIRALS
When stitching Spirals, enlarge the centre hole with a slightly larger pin to allow for the extra number of threads which will pass through the hole.
On some older patterns we worked from the centre out but have found that doing the reverse (starting from the outer edge - out at 1 and then into the centre A) makes it easier to lay the threads so that they don't overlap untidily.